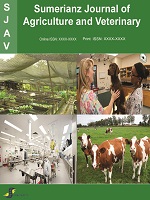 Sumerianz Journal of Agriculture and Veterinary

Online ISSN: 2617-3077
Print ISSN: 2617-3131
Archive
Volume 3 Issue 11 (2020)
Effect of Dietary Supplementation of Cymbopogon Citratus Oil on the Performance and Carcass Characteristics of Broiler Chicks
Authors : Alagbe J. O.
Abstract:
This study was carried out to determine the effect of dietary supplementation of Cymbopogon citratus oil (LGO) on the performance and carcass characteristics of broiler chicks. A total of 250 one-day-old chicks of Ross 308 strain were divided into 5 treatments with 5 replicate per treatment of 10 birds in a completely randomized design. The dietary treatments include a control diet (T1) with no Cymbopogon citratus oil (LGO). LGO was supplemented at 0.1%, 0.2 %, 0.3 % and 0.4 % in diets 2, 3, 4 and 5 respectively. The experiment lasted for 56 days; feed and water were administered ad libitum. Results obtained revealed that average daily weight gain (ADWG), average daily feed intake (ADFI), average daily water consumption (ADWC) and feed:gain were significantly influenced by LGO (P˂0.05). Highest mortality was recorded in T1 (4.15 %) followed by T2 (1.71 %), T3 (0.50 %), none was recorded in T4 and T5 (P˂0.05). dressing percentage, carcass and relative organ weight were significantly different among the treatments (P˂0.05).There was no noticeable inflammation was observed on the liver, kidney spleen and other internal organs. It was concluded that LGO is rich in phytochemical constituents and can be safely included in the diets of broiler chicks up to 0.4 % level without causing any detrimental effect on the growth performance and carcass of birds.
Territorial Dimensions of Governance Sustainability – The Case of Bulgarian Agriculture
Authors : Hrabrin Bachev
Abstract:
This article suggests a holistic framework for assessing the "forth" governance pillar of agrarian sustainability in Bulgaria. The newly elaborated approach is "tested" in a large-scale study for assessing the governance sustainability at national, territorial and farms levels. Multiple Principles, multi-criteria and multi-indicators assessment indicates that the Overall Governance Sustainability of Bulgarian agriculture is at a "Good" but very close to the "Satisfactory" level. Besides, there is a considerable differentiation in the level of Integral Governance sustainability of different agro-regions and farming systems in the country. Furthermore, the individual indicators with the highest and lowest sustainability values determine the "critical" factors enhancing and deterring the particular and integral Governance sustainability of national, territorial and farming systems of Bulgarian agriculture.