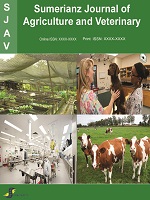 Sumerianz Journal of Agriculture and Veterinary

Online ISSN: 2617-3077
Print ISSN: 2617-3131
Archive
Volume 3 Issue 10 (2020)
Effect of Garlic Oil Inclusion on Carcass Quality, Growth Performance and Cost Implication of Broiler Chickens
Authors : Bamigboye Samson. O. ; Oluwafemi R. A. ; Maduekwe Innocent M.
Abstract:
This study was carried to evaluate the "Effect of Garlic (Allium sativum) oil inclusion on carcass quality, growth performance and cost implication of broiler chickens". A total of 180 day–old-(Arboacre) broiler chicks purchased from a reputable hatchery was used in the study which lasted for eight (8) weeks. The birds were divided into four experimental groups; each group was further subdivided into three replicates of fifteen birds per each in a Complete Randomized Design (CRD). The birds were fed on two basal diets (Starter and finisher) in an experiment which lasted for eight weeks. The garlic oil (Allum sativum) was added to the basal diet at (0.00, 0.1, 0.2, 0.3%) level respectively. The treatment were T1, T2, T3, and T4 with T1 serving as control. Growth performance, carcass characteristics, and cost implication were recorded. At the end of the experiment, the birds were slaughtered, dressed to estimate the different parameters. The result showed that the diet with 0.3% garlic oil inclusion had significantly (P<0.5) highest body weight and highest dressing percentage. Control treatment (0.0%) had highest feed intake and best feed conversion ratio. The mortality rate was not affected significantly by the addition of garlic oil in broiler diet. The garlic oil inclusion reduced the mortality rate of the birds, increases productivity and food safety. The result showed on cost implication reveal the economical evaluation of the experiment diets indicated that, the diet with 0.3% level of garlic oil showed the highest profitability ratio as compared to the group. This might be due to the highest return of the weight gains recorded by this group of chicken.
The Use of Small Grains for Food Security and Climate Compliant In Dry Regions of Zimbabwe: A Review
Authors : Sakadzo N. ; Kugedera A. T.
Abstract:
Climate change has brought issues of total crop failure in dry regions in Zimbabwe as evidenced by total crop failure in 2010, 2015 and 2017 in some parts of Chivi which is one of the driest area in Zimbabwe. The paper highlights the use of small grains for food security and climate compliant in dry regions of Zimbabwe. This brings in an idea of growing small grain by farmers as means of improving food production in dry areas such as Chivi, Mwenezi and Chiredzi districts. Cereal production growth in Sub-Saharan Africa is expected to decline by a net 3.2 percent in 2050 as a result of climate change. To mitigate this risk, there is need to improve productivity of small grains as climate compliant crops which can ameliorate poverty in Zimbabwe. Small grains are drought tolerant and perform better in dry regions than any other cereal crops. Sorghum and millet have the potential to contribute to food security to the world's poorest agro-ecological regions.