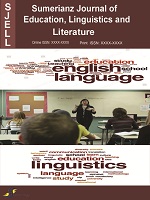 Sumerianz Journal of Education, Linguistics and Literature

Online ISSN: 2617-1201
Print ISSN: 2617-1732
Archive
Volume 3 Issue 10 (2020)
Reading Ahmed Yerima's Hard Ground as Tragedy of Blood
Authors : Azeez Akinwumi Sesan ; Akeem Adewale Akinwale
Abstract:
Niger Delta oil crisis has been one of the major social, political and economic problems confronting Nigeria. As a result, Nigerians of different arts and professions have been showing concern about this persistent confrontation between the federal government and Niger Delta militant youths. Literary writers have been reflecting this oil crisis in their literary creativity in any of the genres of poetry, drama and prose. Ahmed Yerima is one of the literary writers who have reflected the Niger Delta oil crisis in their literary creativity with the publication of his Niger Delta trilogy (Hard Ground, Little Drops and Ipomu). Hard Ground, the first of the plays in the trilogy is this paper's primary text. The play uses dramatic device of irony to advance its plot and theme as the tragedy of blood. With critical reading, the play presents tragedy of blood/ revenge tragedy from two levels of interpretation: denotative and connotative/metaphorical. The play's success is reflected in the playwright's use of characterisation (as seen in Baba and Nimi) and creative use of irony to advance the plot and to complicate the play's conflicts.
Effects of Ilias Online Learning Platform on Academic Achievement in Educational Technology among University Students' in Nigeria
Authors : Alabi Thomas Omotayo ; Thaddeus Hellen ; Falode Oluwole Caleb ; Chukwuemeka Emeka Joshua
Abstract:
This study investigated the effects of ILIAS online learning platform on students' achievement in educational technology among universities in Nigeria. Quasi-experimental research design was adopted and 338 participants (157 males and 181 females) year two students constituted the sample for the study. The research was guided by two research questions and two null hypotheses. A researchers designed instrument named Educational Technology Achievement Test (ETAT) was used for data collection. Data collected was analysed using mean and standard deviation while ANOVA was used to test the two null hypotheses that were formulated. The findings of the study indicated that those taught with ILIAS learning platform had higher mean achievement scores in ETAT than those students in the control group and also there was no significant difference in the mean achievement scores of male and female students taught Educational Technology using ILIAS learning platform. Based on the findings of the study, it was recommended that Universities and other tertiary institutions should implement the use of ILIAS learning platform in teaching and learning process for the purpose of enhancing learning outcome.