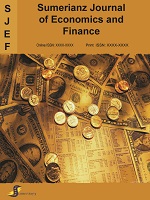 Sumerianz Journal of Economics and Finance

Online ISSN: 2617-6947
Print ISSN: 2617-7641
Archive
Volume 4 Issue 3 (2021)
Tourism Industry in Kashmir Valley: Issues & Challenges Associated with the Process of Concretisation
Authors : Arshad Bhat ; Abid Sultan ; Aamir Qureshi ; Abid Qadir ; H. A. Malik
Abstract:
Tourism product is associated with livelihood of both rural and urban population. Tourism is one of the leading sectors in the valley followed by horticulture, providing employment to a huge chunk of population whether skilled or unskilled. Tourism industry is the only sector which is working throughout the year be it summer or winter. The present paper is an attempt to analyse the potential and growth of tourism in the economy of Jammu and Kashmir and examine the issues associated with the concretisation at tourist spots/destinations. During 2015-16, the total number of foreign tourists visited Jammu and Kashmir was recorded to be 58568. Tourism industry is playing a pivotal role in the U.T. economy which is evident from the fact that tourism sector accounts for 5.92 per cent of India's GDP and 8 per cent to Jammu & Kashmir economy. But, during turmoil period (1990-2000), the U.T. of Jammu and Kashmir in general and Kashmir valley in particular was worst hit, there was unrest in every nook and corner of the valley. The results revealed that though tourism contributes to the employment generation of the U.T. but from the analysis of the data it was astonish recorder that less than 1 % growth was observed during past two decades. The infrastructure was created leaps and bound every nook and corner of the tourist destination, but it has posed serious challenges and threats to the various socio-economic characteristics like employment, living standard, income, environmental degradation and obviously the greenery of the tourist destination. But there are certain issues and challenges associated with the modernisation and concretisation at tourist destinations for sustainable tourism in the region.
The Impact of Parental Behavior on the Cognitive Level of Preschoolers in Upper-Egypt
Authors : Rania Megally ; Rasha Aly Rashed ; Hebatallah Ghoneim
Abstract:
COVID-19 has reshaped our lives. Our houses turned into co-working areas, school classrooms, and playgrounds. Social distancing has put more weight on parents to ensure their children's education and cognitive gains. This has raised questions about the impact parents had on their children's cognitive levels even before COVID-19. This paper is an attempt to show how parents' behavior contributes to improving the cognitive level of their preschool children in a developing country. The paper also attempts to determine the relationship between parenting behavior and socioeconomic factors such as income and education.
Performance Evaluation of Internet Monetary Fund Based on Super-efficient DEA
Authors : Lingling Huang ; Qianling Zeng ; Fan Lin ; Wenyan Deng ; Wenchao Pan
Abstract:
Since 2013, China's Internet money fund market has entered a new era. On June 17, 2013, Yu'e Bao, jointly launched by Alipay and Tianhong Fund Company, was the first to go public. In just a few short years, the Internet money fund market has developed in full swing, and Tencent, Baidu, and JD have also participated in the development of related change wealth management businesses. This article uses super-efficiency DEA to evaluate fund performance. Through the validity test of 16 sample fund products in 2019, 7 sample funds are valid according to the DEA; and 16 sample fund products in 2020 are tested for validity, 9 sample funds are valid according to the DEA. The research found that most of the Internet financial products have not yet reached their effectiveness, which is mainly reflected in the fund's custody and management fees. There is still a lot of room for development in China's Internet fund market.