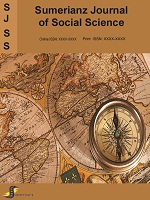 Sumerianz Journal of Social Science

Online ISSN: 2616-8693
Print ISSN: 2617-1716
Archive
Volume 4 Issue 4 (2021)
Local Governments as Training Ground for National Political Leadership in Nigeria: A Study of Yewa South Local Government
Authors : Ajibade Olalekan Eyitayo ; Olabode Bolanle Motunrayo
Abstract:
The study examines the role of local governments as a training ground for national political leadership in Nigeria expending Yewa South Local Government as a study. Survey research design was adopted in conducting this research and relies on primary and secondary sources for data collection. The population for this study consists of employees of Yewa South Local Government council. The primary data came from the one hundred and six (106) questionnaires that were administered to the respondents. The research showed that local governments serve as a training ground for national political leadership in Nigeria expending Yewa South Local Government as a research. This was further supported when out of 102 respondents sampled, 40% of the respondents strongly agreed that indigenous government functions as guidance in lieu of national political leadership. The aforementioned was also discovered that local governments have significantly facilitated national political leadership in Nigeria. The paper concludes by saying that ifthe qualities of governance defies in Nigeria are to be transcended, Nigerian frontrunners must eschew self-regarding inclinations and stimulate the conjoint good of the Nigerian people through people oriented governance. The paper therefore recommends that concerted exertions must be geared in the direction of certifying that they are audacious and determined leaders, fortified to tackle these challenges: reviving local governance; guaranteeing resilient democratic culpability; constructing civil society; creating hard-hitting choices amid compressions; decentralizing power to indigenous people; endorsing equality; and undertaking disparity.
Mentoring Guides for U.S. College Faculty and Administrators in Culturally Diverse Settings
Authors : Ngozi Caleb Kamalu ; Johnson A. Kamalu
Abstract:
The purpose of this paper is to provide answers to the following research questions: Is effective mentoring a function of culture, learning or hereditary, birth/ nature? Or are people born with certain traits that make them more effective or better mentors than others or is it based on learning or socialization/ nurture?; Is cross gender or cross-racial more effective than mentoring based on demographic similarities characteristics? Are there some types or techniques or practices of mentoring that are more appropriate or more suitable to some demographic groups or populations – women, blacks and other racial minorities etc. than others? This paper defines mentoring, discusses competing schools/ theories of mentorship, as well as typologies of mentoring approaches. The paper concludes that multiple/ group mentoring approach is indicative of the new trend in the business; and that while each mentoring technique or model supplements or complements the other, multiple mentoring styles or systems tend to present the best possible path to achieving efficiency and effectiveness. Finally, it recommends appropriate mentoring strategies and techniques to improve mentoring that include programs that take into account demographic similarities between mentors and protégés, gender and race-based norms, stereotypes and discrimination, as well as cultural diversity.