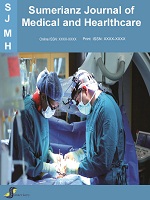 Sumerianz Journal of Medical and Healthcare

Online ISSN: 2663-421X
Print ISSN: 2706-8404
Archive
Volume 5 Issue 1 (2022)
Investigation of the Association between Periodontal Disease Indices and Risk of Acute Hematopoietic Cancer Development (Acute Myeloid and Acute Lymphoblastic Leukemia): A Case – Control Study
Authors : Nikolaos Andreas Chrysanthakopoulos ; Eleftheria Vryzaki
Abstract:
The objective of the current research was to investigate the possible association between Periodontal Disease indices and risk of development Acute Hematopoietic Cancer (Acute Myeloid and Acute Lymphoblastic Leukemia) in a representative Greek adult sample. 174 individuals with Acute Myeloid and Acute Lymphoblastic Leukemia-cases and 174 matched healthy individuals- controls underwent an oral and dental clinical examination and completed a questionnaire. The periodontal condition for cases and controls included Probing Pocket Depth (PPD), Clinical Attachment Loss (CAL) and Gingival Index (GI). Chi-square test and logistic regression models were carried out to assess the possible association. The logistic regression model showed that CAL (p= 0.054) (OR= 2.467, 95% CI= 1.177-2.231), and GI (p= 0.043) (OR = 3.352, 95% CI= 1.285-4.745), were marginally significantly associated with an increased risk of developing Acute Hematopoietic Cancer.
Knowledge, Attitudes and Practices of Dental Surgeon on Oral Cancer in Kinshasa City, Democratic Republic of the Congo
Authors : Mfutu Mana Charly ; Sekele Issouradi Jean Paul ; Situakibanza Nani-Tuma Hippolyte ; Nzudjom Foch Aderlin ; Bolenge Ilebosso Jacques ; Paul Bobe Alifi ; Sekele Marob Patrick ; Monizi Mawunu ; Koto-Te-Nyiwa Ngbolua ; Pakassa Muyulu Nestor
Abstract:
Background and aim: Oral cancer remains a public health problem with a high morbidity and mortality rate. The aim of this study was to determine the level of knowledge, attitude and practice of Kinshasa dentists on oral cancer. Patients and Method: This cross-sectional, descriptive study was conducted in public and private hospitals in the provincial city of Kinshasa between October 2019 and June 2020. A total of 143 dentists responded to the survey. The questionnaires included knowledge of risk factors, attitude and practice of Kinshasa dentists. Results: The average age of the participants was 34.05 ± 7.31 years, the male gender was the most represented (69.2%), and the level of knowledge of the dentists about the risk factors was low despite the fact that the majority of the participants in the study had recognized alcohol (77.5%) and tobacco (77.6%) as the main risk factors for oral cancer. The majority of the participants referred the patient to a specialist upon discovery of a cancerous lesion, only a minority of dentists performed biopsy and counselling.
Conclusion: The level of knowledge of Kinshasa's dentists about oral cancer is low. Refresher training is necessary to enable them to raise their level of knowledge. Thus, the reinforcement of cancer courses in the dental sector is important for a better management of cancer patient.