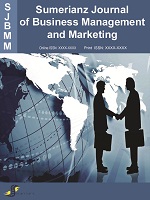 Sumerianz Journal of Business Management and Marketing
Online ISSN: 2617-0175
Print ISSN: 2617-1724
Journal's Aim and Scope
Sumerianz Journal of Business Management and Marketing

aims to promote genuine research in the fields of business, management and marketing. This is a blind peer reviewed and international scholarly journal. This journal accepts high quality manuscripts for publication. The journal is open access and accepts original, innovative and novel work from Scholars, Researchers and Business Analysts from all over the world. The journal is archived in many valued electronic archiving systems which operate fully open access and provide full access to the content. The journal publishes original research articles as well as review articles in all areas of business, management and marketing.


Some main and sub topics are listed below.


Business and Economic Management

Financial Management

Industrial Management

Financial Risk Management

Social Management

General Business Research

Marketing Management

Human Resource Management

Information Management & Applications

Business Theory

Business Policies

Business Economics

General Management

Business Investment and Profit

Capital Structure and Investment

Prices and Profit

Business Development

Financial Reporting

National and International Business

Regional Business and Practice

Environment and Energy Management

Accounting Research and Study

Organizational Study

Business challenges

Public Plicy and Administration

Entrepreneurship

Accounting Studies

Accounting, Auditing and Taxation

Consumer Behavior

Insurance Study

Production/operations management

Project management

Strategic Management and Policy

Business Profit and Loss Research
Operations Management