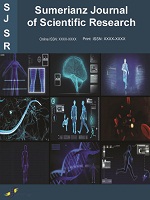 Sumerianz Journal of Scientific Research

Online ISSN: 2617-6955
Print ISSN: 2617-765X
Journal's Aim and Scope
Sumerianz Journal of Scientific Research (SJSR) aims to promote genuine research in the fields of science and engineering. SJSR is a double blind peer reviewed and international scholarly journal. This journal accepts high quality manuscripts for publication. The journal is open access and accepts original, innovative and novel work from Scholars, Researchers, Engineers, Scientists, Dr and Research Analysts from all over the world. The journal is archived in many valued electronic archiving systems which operate fully open access and provide full access to the content. The journal publishes original research articles as well as review articles in all areas of science and engineering. Accepted papers will appear online within 3 weeks time.

The journal accepts papers in the following topics.
• Physics Science
• Earth Science
• Chemical Science
• Mechanical Science
• Engineering
• Electrical and Electronic Science
• Mobile and Application
• Signal and Network Science
• Natural Science
• Biological Sciences
• Food Science
• Geographical Science
• Computer Science
• Material Science
• Earth & Environmental Sciences
• Medicine & Healthcare
• Communication
• Math and Statistics
• Aerospace
• Web Engineering
• Agricultural Science and Engineering
• Medical Science and Engineering
• Machine
• Water and Soil Science
• Oil and Gas Engineering
• Power and Energy
• Civil Engineering
• Safety Science
• Natural and Allied Science
• Computational Study
• Biochemistry
• Space Science
• Atomic Study and Science
• Nuclear Science
• Hydrogen Science
• Forensic Science and Study
Ethics Statement
To ensure the quality of research, a blind peer review process of the journal is deemed an essential. Hence, it is pertinent for all including the author, the editor, the peer reviewer, the publisher and the society of society-owned or sponsored journals, to follow certain standards of ethics. Sumerianz Publication is committed to ensure the guidelines of
Committee on Publication Ethics
(COPE)
and its
Principles of Transparency and Best Practice in Scholarly Publishing
. All journals enlisted in SUMERIANZ ensure COPE's procedures for dealing with potentially unethical behavior by authors, reviewers or editors. SUMERIANZ editorial staff is well trained recognizing and responding to ethical problems and issues if any.
Read More
about Ethics, Copyright, Article Sharing, Policies on Article Withdrawal, Article Withdrawal, Article Retraction, Article Removal: Legal Limitations, Article Replacement.
DOIs at the Article Level:
Each paper published in Sumerianz Journal of Scientific Research is assigned a DOI number. Please Click HERE to know what is DOI (Digital Object Identifier).
Journal Membership: Sumerianz Journal of Scientific Research is a member of Cross ref.
Publication Notice: The author(s) will be informed by email, when his/her article will be published online on the journal's website.
High Visibility: The journal is indexed in the RePEc, ideas, Google Scholar, SocioRePEc, Socionet, ResearchBib, Directory of Research Journal Indexing (DRJI) and many other databases for more and more visibility and citations.
Open Access License
Sumerianz Publication publishes its work open access under license Creative Commons licenses to ensure the complete open access availability of the published work.
CC BY:
Creative Commons Attribution License 4.0
You are free to:
Share — copy and redistribute the material in any medium or format
Adapt — remix, transform, and build upon the material For any purpose, even commercially.
The licensor cannot revoke these freedoms as long as you follow the license terms.
Bibliographic Information
Sumerianz Journal of Scientific Research
Online ISSN: 2617-6955
Print ISSN: 2617-765X
Journal DOI: 10.47752/sjsr