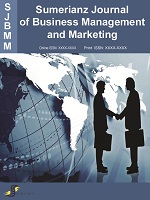 Sumerianz Journal of Business Management and Marketing

Online ISSN: 2617-0175
Print ISSN: 2617-1724
Archive
Volume 5 Issue 1 (2022)
Determine Consumer Purchase Decisions with Micro of Community Activities Restrictions Enforcement ("Micro PPKM") Moderator
Authors : Martinus Robert Hutauruk ; Yacobus Sutarmo
Abstract:
The Implementation Micro of Community Activity Restrictions (Micro PPKM) on a micro-scale or level 4 started in early July 2021 as an essential step for the government in tackling the spread of the COVID-19 pandemic. This step is also an anticipation of implementing Large-Scale Social Restrictions (PSBB), which have also been implemented previously but are deemed problematic for the community's economy to implement micro PPKM Mikro. This study aimed to determine and analyze the influence of the marketing mix on consumer purchasing decisions on staple goods at the grocery store moderated by the micro PPKM situation. Data collection through questionnaires and differential semantic scale models. The samples taken in this study were ten times the number of variable indicators or 200 respondents. The study uses Confirmatory Factor Analysis with the SEM PLS model. This study found that the customer solution has a positive and significant effect on purchasing decisions. Customer cost has a negative and insignificant effect on buying decisions. Micro PPKM has a positive and significant effect on purchasing decisions. Meanwhile, micro PPKM does not moderate the relationship between customer solutions and purchasing decisions and does not moderate between customer costs and purchasing decisions.
The Relationship between Organizational Justice, Organizational Trust, and Organizational Citizenship Behavior: A Case Study of the Employees of the Karabuk University
Authors : Akram M. Alhamad ; Bassam Riyadh Hammoodi Aljanabi ; Athraa Abdulkareem Hameed Almaali
Abstract:
Employees and institutions are being forced to evolve and innovate because of technology advancements, globalization, and increased competitive circumstances in the era we live in. Globalization and growing competition have prompted firms to make the most of their current financial and human resources and develop staff capabilities. Employees' experience, creativity, understanding, and knowledge are regarded as essential competitive assets for organizations looking to boost their competitive potential, differentiate themselves from their rivals, and establish a common language across the firm. In this context, the human factor is seen as the most striking component of the employee/human resource when it comes to achieving the institution's objectives. The fact that the human element of the employee/human resource behaves by organizational objectives is intimately linked to the organization's high feeling of fairness. The term "organizational justice" refers to organizational members' perspectives of interaction, distribution, function, and distribution within the organization. The idea of "justice" is one of the topics examined in human resource management, organizational psychology, and organizational behavior literature. The fact that the phenomenon of justice is a crucial aspect in the active fulfillment of institutions' tasks underpins this.